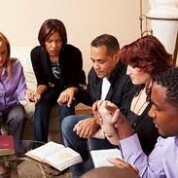 " As iron sharpens iron,  so one person sharpens another."
(Proverbs 27:17 NIV)
Christian Group Therapy is a powerful catalyst for growth and change.  Group therapy is a special form of therapy in which a small number of people meet together, under the guidance of a professionally trained and credentialed Group Therapist, to help themselves and one another.   Group therapy also offers participants an effective, efficient and economical option for healing relational and emotional issues.
Group therapy is effective because it is a means of grace that the Lord promised—where two or more are gathered in His name, there He is among them (Matthew 18:20).  Similarly, in Malachi we find that those who feared the Lord talked with one another and the Lord listened and heard (Malachi 3:16).  When we sharpen one another in real Christian fellowship, the Lord inclines His ear to us and is pleased.  When group participants input to one another, the confrontation and the encouragement can sometimes be received more openly than when a therapist might say the same thing in a one-on-one setting. When participants hear that others are having some of the same thoughts and feelings, they don't feel so alone or insecure. By working together, participants learn from and sharpen one another.
Group therapy is efficient because the partipants share the sessions, each taking a turn speaking, and all listening to one another.   Participants often make great strides in a few months of working together.
Group therapy is economical because the the honoarium for the sessions is shared and divided among the participants.  The sessions are usually 90 than individual session, but more affordable by splitting the contribution amound group members.  When particiants are invested in the group therapy, they tend to work harder to attain results.
In Pastoral Counseling, the purpose is to bring biblical healing to spiritual and psychological problems, issues and circumstances as well as to encourage spiritual and personal growth in the life of the participants.  The therapy group becomes a Christian community where healing takes place, support is available and Christ is experienced and accepted into the healing and recovery process of group members.  Not only do participants receive tremendous understanding, support, and encouragement from others facing similar issues, but they also gain different perspectives, ideas, and viewpoints on those issues.  This a very successful therapeutic method that is widely used. 
Here are just a few group therapy topics:
Women's Issues

Clergy Challenges
Dr. Linda King holds advanced certification, in Group Therapy, by the National Christian Counselors Association.  Please contact us to schedule an initial no-fee consultation to discuss the needs of your group.  Let us know if you are interested in hosting a group.