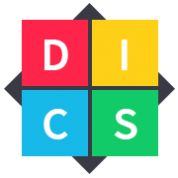 The DISC Personality System was created by Dr. William Marston at Harvard University in the 1920's.  It focuses on one's personality style, communication style, behavioral characteristics, and predictable behaviors.  SCMi has partnered with PeopleKeys to offer the DISC online.  PeopleKeys has had success in behavioral analysis and Unlocking Human Potential for more than 35 years.
Several options are offered online:
Biblical DISC Personality Assessment is intended for application with Christian audiences.  It includes Biblical examples and an action plan for using Biblical insights to improve relationships.
Classic DISC Personality Assessment focuses heavily on communication, workplace strengths & contributions, areas for improvement, and predictable interactions with others.
Teams Thinking Style DISC Assessment identifies one's thinking style and how that contributes to group thought and productivity.
Student Strengths Assessment uses three unique assessments (DISC Personality Style, Perceptual Learning Style, Cognitive Thinking Style) to provide a simple tool to help students uncover their personal strengths, then apply that information to everyday communication and learning situations. The Student Strengths Report will help students recognize their distinctive personality strenghts, learning styles and thinking preferences
Personality differs from temperament and character.  However, each has an effect on the soul (mind, will and emotions).  Personality is behavior oriented and represents the mask a person wears.  Temperament represents one's inborn nature that is genetically encoded in the soul.  Character represents habits or learned behavior.
Temperament is the pre-disposition and character is disposition of the soul.  As such, if you have not already done so, we recommend that you also purchase a Temperament Analysis Profile so that you can better get to know the genetically encoded pre-disposition of your soul.  The temperament assessment will validate your inborn/intrinsic temperament needs, tendencies, strengths and struggles.  In addition, you may want to complete an online Christian Character Assessment courtesy of Assess Yourself.org. Our desire is to help you be well and prosper at the soul level.  We provide these tools, along with our Soul Care Counseling and Life Coaching services, in support of that process.
Every person has a combination of these four main DISC personality styles:
Dominance – Direct, Decisive, Driven
Influence – Outgoing, Persuasive, Impulsive
Steadiness – Stable, Thoughtful, Reliable
Compliance – Conscientious, Organized, Systematic
By understanding your personality style, you can better understand these characteristics about yourself:
Communication Style & How to Better Relate to Other Styles
How You Handle Conflict and Stress
Your Innate Fears & How These Affect Your Actions
Your Natural Strengths & Potential Limitations
Applications of DISC  include, but are not limited to:
Improving communication in both personal and corporate environments
Personal Growth
Talent Management
Hiring the right person for the job
Placing employees and/or volunteers where they will be most productive and content
Avoiding and resolving conflict
Building strong and cohesive teams
Managing stress
Training managers and leaders in communication techniques, organizing and working with people, and increasing productivity
Training sales people in styles of selling and meeting the needs of the client
Motivating staff and improving morale
Increasing understanding in combination with counseling techniques
Improving student performance
As a courtesy to our counselees and clients, we offer an option to purchase and take a Biblical DiSC, DiSC Classic, Team thinking Style or Student Strengths assessment online.  Following your purchase, you will receive instructions by email for taking the assessment online.  Your report will be provided after your counselor or life coach has reviewed the results.