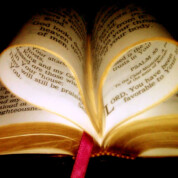 "Now I myself am confident concerning you, my brethren, that you also are full of goodness, filled with all knowledge, able also to admonish one another"
(Apostle Paul, Romans 15:14 NKJV)
Biblical Counseling (a/k/a Nouthetic Counseling) is a form of  Christian counseling that is very directive and seeks to change the heart, not just alter behavior (Mark 7:21-23; Proverbs. 4:23).  This form of counseling is also sometimes referred to as  Nouthetic, Biblical or Discipleship Counseling.
At Soul Care Ministries International (SCMi™), we  believe it is time that the body of Christ redeem counseling to it's Biblical context.  That is, action-oriented counseling that is based upon the Scriptures.
The Greek word 'noutheteo' is found in numerous passages of Scripture and describes the manner in which  counseling is to be provided.  The word [noun nouthesia (verb: noutheteo)], used in the New Testament primarily by the Apostle Paul, is translated admonish, correct or instruct and is compassionate. As such, Biblical counseling can also be referred to as nouthetic or discipleship counseling.  Some primary aspects of Biblical/Nouthetic Counseling are:
We embrace the sufficiency and authority of the scriptures.
"All Scripture is given by inspiration of God, and is profitable for doctrine, for reproof, for correction, for instruction in righteousness (2 Timothy 3:16 NKJV)."
We depend upon the ministry of the Holy Spirit.
 "For the Holy Spirit will teach you in that very hour what you ought to say (Luke 12:12)."
We recognize that He is the 'Counselor' and we are simply used of God to minister hope, healing and restoration to hurting.
". . .  And His name will be called Wonderful, Counselor, Mighty God, Everlasting Father, Prince of Peace (Isaiah 9: 6 NKJV)."
We regard Biblical Counseling as a ministry of equipping and discipleship vs a professional clinical practice:
 "And He Himself gave some to be apostles, some prophets, some evangelists, and some pastors and teachers, for the equipping of the saints for the work of ministry, for the edifying of the body of Christ . . . (Ephesians 4:11-16 NKJV)."
The goal in all Biblical (Nouthetic/Discipleship) Counseling is sanctification – – – changing and growing in divine grace (cf. John 17:16).  Sanctification means that we must desire inner change of the heart, not just outward behavioral change.   That is God's will for every person's life (cf 1 Thessalonians 4:3).  This not only glorifies God the most, but also brings the most lasting joy to a believer.  The heart is the seat of the soul so that is why our ministry is called 'Soul Care'.  The change desired  is so that the Lord, Jesus Christ is glorified by the change that God brings about in the person's heart (Romans 8:28-29).
There is no better source to turn to during times of dis-ease, distress and loss than to the Lord.  He has already provided all our answers, through His Holy Word, the Bible.  There is absolutely no problem that God cannot solve.  It is up to us to follow His counsel.  While the term 'nouthetic counseling' is somewhat new, this sort of counseling is not. From Biblical times onward, the people of God have counseled nouthetically.  Dr. Linda King has studied, utilized and received certification in Biblical Counseling for more than 10 years.  Her studies have provided her with opportunities to participate in training conferences with the pioneer of Nouthetic Counseling (Dr. Jay Adams) and numerous national leaders in Biblical Counseling community.
All counseling provided by Soul Care Ministries International is Bible based.  Dr. Linda King, the founder of  Soul Care Ministries International (SCMi™), is very passionate about care of souls and has established Soul Care Ministries International with Biblical counseling as a key part of the ministry.
This is not passive talk therapy, psychology or psychotherapy!  We are not psychologists or psychotherapists.  We are committed to prayerfully seeking the Lord, being led of the Holy Spirit and searching the scriptures to help you receive the help, hope and healing you need and desire.
Contact Us Now to Schedule An Appointment 
Are you ready to 'make that change' and get some real hope, help and healing?   If your answer is yes, use our appointment scheduler or contact us to schedule an appointment to begin the process.  We look forward to serving you.  We respect your privacy and provide all counseling services in strict confidence.