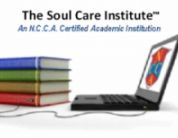 The Soul Care Institute℠ is proud to be a Certified Academic Institution with the National Christian Counselor's Association (N.C.C.A.); offering certification. licensing and accredited degrees (cf. 2 Timothy 2:15); through distance learning.
The Soul Care Institute was established, as a work of service of Soul Care Ministries International (SCMi™), with the mission of equipping those called to the Ministry of Christian Counseling (cf Ephesians 4:12). We are certified and licensed to provide courses and instruction for the entire N.C.C.A. Christian Counseling Distance Learning Certification, Licensing and Accredited Degrees Program In our 10+ years relationship with the N.C.C.A., Soul Care Ministries International has mentored, equipped and trained many Christian counselors who now serve in church as well as independent Christian counseling ministries and practices. N.C.C.A. is the largest education and training association of Christian counselors in the world.
Following an open admission, distance learning protocol, this educational program imparts an effective method of Christian counseling based on the Bible and the created nature of each individual. This is an accredited Distance Learning Program that allows students to obtain ecclesiastical degrees (Bachelor's, Master's and/or Doctorate) in Christian Counseling from supporting universities and seminaries while concurrently obtaining certification(s) and/or license from the N.C.C.A. Credits earned at The Soul Care Institute are transferred directly to the N.C.C.A. without any additional charge. The N.C.C.A. issues various certifications and authorizations, and will transfer your credits to the associated universities for the purpose of awarding your earned degree.
The N.C.C.A. certification/licensing program is not to be identified nor confused with state licensing. It is intended for a person who wants to practice as a "servant of the Church (Body of Christ)" rather than as an "agent of the state." The certification/licensing program developed by the N.C.C.A. provides specific ministerial credentials within the Ministry of Counseling. All N.C.C.A. materials are proprietary and protected by copyright law. Students communicate with The Soul Care Institute by various means including email, chat, Skype and/or traditional mail.
The Soul Care Institute currently offers two distinct distance learning formats:
Off-Campus Independent/Home Study: All of the coursework is available in printed form, mailed to you. Students work at their own pace and can enroll and complete their coursework at any time.

On-Line Curriculum: Courses are also available as text (pdf) files that can be printed, transferred to an electronic reader and searched for reference purposes. This format is used for all non-US students and is also popular with many domestic students.
We offer five programs to meet your specific needs:
Program 1 – Certification or License only

Program 2 – Combined License, BA & MA
Program 3 – Combined License & MA
Program 4 – Combined License & Doctorate
Program 5 – Combined License & 2nd Doctorate
The program is self-pace, affordable and enrollment is at any time.  There are no semester restrictions or time tables and limited restriction on time to complete the requirements. You may gain your training and complete your education in concert with the other demands of your life and ministry. The recommended time limits for each course is generous and flexible. Most students find the courses so engaging that they are done in a remarkably short time. A student seeking an advanced degree is typically enrolled with us from one to two years.
View our Digital Catalog online or contact us to receive a PDF version of the catalog via email for downloading and/or printing.  If you would like a printed copy of the The Soul Care Institute's catalog ($10) or the N.C.C.A. catalog ($15), please request via our PayPal® account.  Students who enroll may request a one-time credit of the $10 paid for the printed catalog provided by The Soul Care Institute.
We, at The Soul Care Institute, invite you to become a member of one of the largest educational and training associations of Christian counselors in the world. Our staff is committed to helping you fulfill the call that God has placed on your life.
Ready to apply for enrollment? You may download the enrollment application or contact us to request receipt via email or postal mail.  Downloading the enrollment application requires Acrobat Reader.  If you don't have Acrobat Reader, you may download it here:

Need to remit tuition and fees? Please click this link for information relating to tuition, fees and policy and procedures.
If you have any questions or would like to speak with us personally, please contact us.