Have You Ever Asked, "Who Am I?"
This is a course of study that provides the student with a Special Personal Profile which professionally identifies their temperament in three behavior areas: social/intellectual, decision making, and affection. The student may also qualify to receive a Certificate of Completion.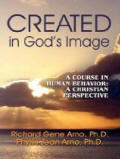 God has revealed some keys to spiritual genetics to the authors of this course and it is explained to the student in this very blessed and anointed course in biblically based human behavior.  The course, entitled Created In God's Image, was inspired by God and written by two Christian PhD's (Drs. Richard and Phyllis Arno).  Now, you can finally learn who God created you to be and how to gain victory over areas of your life that have always challenged and controlled you.  You will learn your strengths and weaknesses and be taught how to develop your strengths and seek God's strength to help with your weaknesses. You will receive a personal, Biblically based profile which will provide you with a spiritual blueprint of who God created you to be.
This high quality course is provided for clergy and lay persons that are interested in the temperament but are not called to function as pastoral counselors.  It is provided in a home study format  including a textbook, and a temperament profile. Produced by a professional certified to administer it, this analysis and profile will help you understand exactly how your temperament was formed and how it influences your behavior.  Learn personal strategies for maximizing your strengths and overcoming your weaknesses.
Created In God's Image was written for people who want to understand the temperaments, and gain a greater comprehension of who God created them to be.  It is a great course to study as an individual and also  for use in a study group where Christians are interested in understanding themselves and God at a new level.
Who Should Take Created In God's Image?
Everyone who wants to know about how they were created.
Every Christian who wants his marriage to work better.
Anyone who would like to know what kind of work he/she is best at.
People who need to understand other people.
Every Pastor, Minister and Spiritual Leader.
Christian Employers and Counselors.
Those who would like some light shed on the mystery of themselves.
Anyone called to become a counselor.
You are invited to experience this life changing course.  Along with the 246 page book, a 6-8 page detailed, professional quality personal temperament profile is included.  Your course will include an exam, A.P.S. Response Form and Scantron card.  Please return each of those items to Soul Care Ministries International, Inc. (The Soul Care Institute).  We will grade your exam(s) and administer the A.P.S.(s).  The cost of this course is a modest $49.99 + S&H.  A leader's/teacher's manual is available for group leaders.  The cost of the leader's manual is also $49.99 + S&H.  Order the course now via the PayPal® link below:
Thank you for your order.  We look forward to serving you!  Should you have any questions or wish to make a purchase for your group, please contact us.
  The Soul Care Institute℠
Soul Care Ministries International, Inc.
Dr. Linda H. King, Founder/President/CMO
S.A.C.C . International Representative and Certified Pastoral Member
 1 (888) 761-5777, Ext 3 (United States)
00 + 1 + (888) 761-5777, Ext 3 (International)