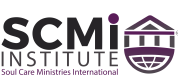 The SCMi Institute (Soul Care Ministries International Institute) specializes in providing training and education that equip and credential pastors, clinical and lay counselors, mental health professionals, chaplains, life coaches, and other leaders for works of service in Christian counseling.
Certification. License. Degrees.
Do you find that people seek out your counsel even though you are not a professionally credentialed counselor or life coach?  
Are you a clergy person who would like to be better equipped to meet the needs of your congregation and community?  
Are you a mental health professional who has a desire to more effectively serve your Christian clients?  
Have you gained expertise or experienced life transition that has prepared you to join the billion dollar Life Coaching industry?
Do you feel its time to advance your educational training in Christian counseling, life coaching, or spiritual care?  
You may be experiencing a call of God.  If you find the idea of becoming a professionally credentialed Christian counselor or life coach interesting, please explore the various courses and educational programs we offer.  We help those called to Christian Counseling and/or Life Coaching obtain certification, license, degrees, practical experience, and more. 
"Do your best to present yourself to God as one approved, a workman who does not need to be ashamed and who correctly handles the word of truth (2 Timothy 2:15 NIV)."
We are an N.C.C.A. Certified Academic Institution offering Christian counselors certification, license and degrees programs.   We also offer other certification programs, and independent studies, in various specialized areas of soul care including Biblical Counseling, Christian Life Coaching, etc.  Welcome to our Global On-line Campus!
As an Ephesians 4 outreach ministry organization, we are committed to the Biblically ordained equipping ministry.  Our main purpose is to provide quality training for students, who are gifted and called to counsel, to earn nationally and internationally recognized certification, licensure and accredited degrees in Christian Counseling.   
Training is provided through Distance Learning, On-line Classes, Independent Studies, Workshops, Seminars, Lectures and Symposiums.  The  SCMi Institute  was created, by Soul Care Ministries International, because there is a lack of trained and credentialed counselors within the Christian church and faith community.  Our courses may also be of interest to people who would like to learn more about themselves, those who would like to become better equipped to help family and friends, mental health professionals and other caregivers/people-helpers who would like to further develop their knowledge and skills from a Biblical perspective.
If you are enrolled in another college or seminary program, we encourage you to inquire with that school about receiving transfer credit for courses taken through the SCM Institute℠.  Please refer to the specific training program you are interested in, for application, and additional instructions.
The invaluable training, offered by the  SCM Institute℠, will be a key that opens doors for those who are gifted to counsel as you accept God's divine call on your life, advance your ministry and enhance your professional career.